A2z BARAT GALLARY
[nggallery id=15]
 How to Plan, Decorate and Cater Wrold-Class Baraat Weddings Events, 
         What is Baraat Function, Baraat Specification, When Baraat Events Take Place, Baraat Event's Importance in Pakistan, How to Plan, Design, decorate and Cater World-Class, Traditional & Thematic Baraat Events, Best Baraat Weddings Setups by A2Z Events Solutions, Hire Best Baraat Weddings Events Planners in Lahore Pakistan
                   This is an Islamic traditional wedding ceremony, which establish bond between both of families and their cultures, apart from creating a very special relationship between the couple who ties to knot of new marriage life willingly. The marriage ceremony is a series of colorful events, spread over 3 days, which gradually starts from Dholak, Mayon & Mehndi, Barat and ending on Walima's Ceremony.  Barat (Groom's arrival day), is one of the important and full of fun ceremonies on the days of wedding at the venue, in this marriage procession, while groom's relatives, family members and other friends are called as "Baratis" are welcomed by the bride's family when they arrive at the wedding's venue. The traditions and cultures do vary from city to city, nation to nation and country to county to receive this marriage procession called "Barat".  This is very important & Colorful Event, where colors and funs do cherished by every passing moments as both families, friends and relatives by groom and bride to gathering a same venue, where all formal and important wedding rituals are being expressed to unite the couples into a marriage life. A Professional Weddings Events Planner, like a2z Events Solutions, who do understand the importance of every single moment at this type of event, do have a team of highly professionalized team, with keen and dedicated experience to design all type of thematic wedding events.
                 At this spot most of the family from both side are worried or conscious to find out a perfect wedding's events planners in Pakistan, who could understand their feelings, requirements, interests to plan, design, decorate and execute the whole wedding events thematically and perfectly, where color scheme, setups, crockery, cutlery, lighting, food menus, designing, flowers arrangements, table setups with all verticals options, stage designing & decoration, hall designing and decoration, typical and thematic weddings events designing, with lights, flowers and colors combination, all this comes with only and only By a2z Events Solutions Management Team, Who are perfect in all these types of events with years of experience, being considered as brand name in the Events & weddings planning market. A2Z Events Solutions is One and Only stop who do have better ideas, concepts, themes, plans and budget options for all type of wedding events.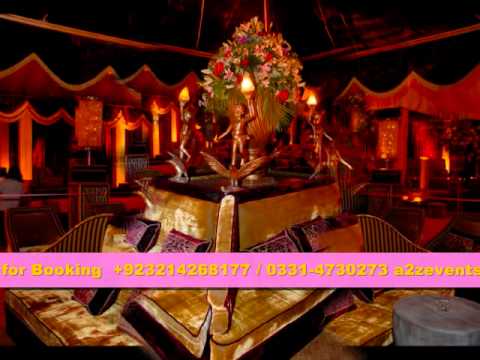 We do listen to our valued clients very carefully, offer our experienced and valued ideas as suggestions and matter of importance to the clients, understand their standards of requirements, interests, required services and budget plan, and design the whole event within those limits, tailoring in such a way, which meets all the needs and values, wished by the clients. Our dedications and commitments have brought us honor and credibility by our valued clients, as we won their satisfactions and appreciations once we served them as a family member at any event, urging them to be on our permanent valued client's panel.
                 If you are worried, or searching about best, perfect and professional wedding's events planners in Pakistan, all of your worries say good bye to you, as A2Z Events Solutions is there, who is dedicated and sincerely committed to meet up all of your challenges and deadlines in any of concerns. We do promise, to have won your trusts within our first meeting, as Any kind of wedding's setups and thematic designs can be planned professionally and perfectly on all occasions of wedding like Mehndi, Barat & walima by a2z Events Solutions Only.
For more information, Consultation or booking your event, Call Now,
A2Z Events Solutions Management Co.
Office # +92-42-35817106 , Mobile # +92-321-4268177 / 0331-4230273
M-23 Siddiq Trade Center, Main boulevard Gulberg III, Lahore, Pakistan
www.a2zeventssolutionz.com , www.a2zeventssolutions.com ,, www.a2zevents.weebly.com